We review the Galvin Green 2016 range of Gore Tex golf waterproofs for men - featuring many new styles and colours for the season ahead.
Galvin Green 2016 - New Waterproofs
We introduce to you: the Galvin Green 2016 Gore TEX golf waterproofs range.
.
The "art of performance" is the focus for 2016 and Galvin Green really have re-invented their range of golf waterproofs. First of all, we should point out to any keen golfers who are yet unaware of Galvin Green waterproofs - that every jacket and trousers comes with a lifetime waterproof guarantee, as standard. As for the 2016 collection itself, the same key jacket types remain - providing a variety of options to suit almost every preference - whilst the fresh new colour combinations work exceptionally well. Key stories include Imperial Blue/Black and Lagoon Blue/Steel Grey with more sophisticated and neutral colours of White, Black and Iron Grey available for a much more subtle look on the course.
Galvin Green 2016 - Performance Shell Jackets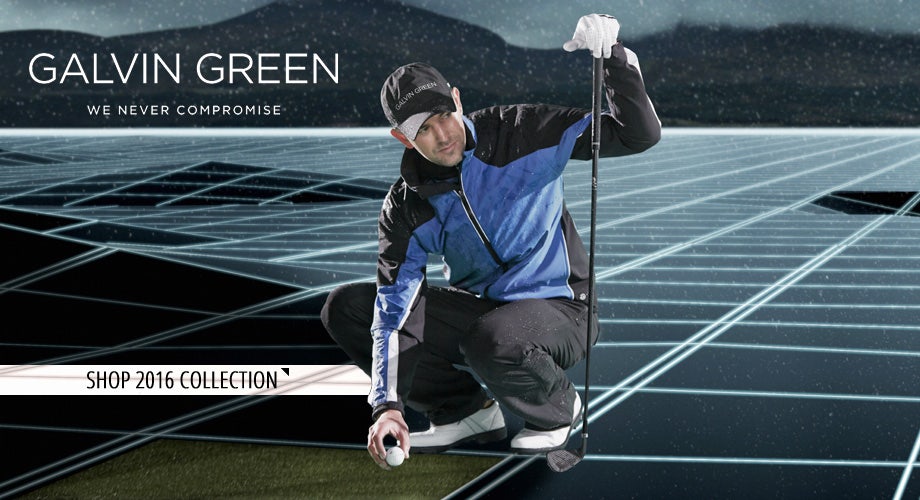 The top of the range - the pièce de résistance - is the ARROW golf jacket. A brand new style from the Galvin Green 2016 range and replacing the critically acclaimed Apex from last year, the Arrow jacket features the same performance shell lining with added stretch through the Gore Tex fabrication - maximising comfort and minimising any restriction throughout the golf swing. Why change an award-winning product, you might ask? The product itself hasn't really changed - it's simply a design change and a re-naming of the same jacket style.
Because of this same reason - there are a handful of other styles which proved extremely successful last year and so remain in the collection once more. The ALBIN half zip jacket uses the performance shell with stretch and returns with many new colour options, whilst the AMOS (without stretch) enjoys some fresh colour updates, too.
Galvin Green 2016 - Paclite Jackets
The difference between Performance Shell and Paclite golf jackets is very simple - the mesh lining is absent and allows for a super lightweight, packable material which still provides you with the ultimate waterproof protection and breathability. Galvin Green Paclite jackets are excellent for sudden rain showers in warm conditions - simply grab yours from your neatly packed golf bag and slip it over your t-shirt and shorts when those pesky storm clouds finally catch up with you!
New Paclite styles on offer from Galvin Green include the full zip ALEC jacket in four colours and the half zip ACTION jacket, with added stretch. A couple of styles return with a whole new colour palette once again; the ASTON full zip (with stretch) and the AIR short sleeve (with stretch) were again considered too good to remove from the range.
And finally, Gore Tex waterproof golf trousers. Not much has changed this time; all that has been introduced to the Galvin Green 2016 range is some fresh new colours of the AUGUST paclite pants - with the ALF and ALF STRETCH pants (with performance shell lining) remaining as previous. Why would the brand change them when they work so well with such reliability? No new colours, unfortunately, so black will just have to do for now!
Galvin Green Waterproofs Review - GP Comment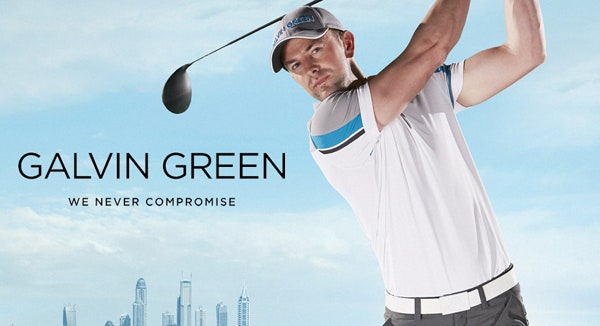 Galvin Green are well established in the golf waterproofs market - as we all know. It could be argued that the Swedish brand somewhat rested on their laurels and continued with playing it "safe" with their previous seasonal collections. In truth, we would tend to agree with that criticism - until now. The entirety of the 2016 range of golf waterproofs is a cut above what has gone before; the brand are no longer treading water and waiting on every other brand to catch up.
Galvin Green remain as the best golf waterproofs on the market - hands down. We love what they've introduced to the 2016 range and with an improvement on style comes no compromise on performance. The Galvin Green range has improved markedly upon last year and truly embraces the "art of performance" - whilst the clothing collection has also been propelled forward significantly (look out for this review coming soon).
Discover the entire Galvin Green 2016 golf collection online at Golfposer.