Ewen Ferguson - GP Ambassador
2022 has been quite the year for DP World Tour rookie Ewen Ferguson. A maiden victory at the Qatar Masters in March was just rewards for his early season form and was backed up by a wire-to-wire at the ISPS Handa World Invitational in August. Throw in two more top ten finishes, some stunning course records & two "Golfer of the Month" awards – and it's easy to see why Ewen is in high spirits as we sit down to chat with the Golfposer brand ambassador.
So, how does it feel to be called a two-time winner on the DP World Tour?
"It feels amazing! At the start of the year I was just aiming to keep my card but now I've propelled myself into contention to win quite a few times now. Obviously getting a couple of those wins over the line was nice and then second place in Denmark was good. I led by four shots after three rounds in Kenya as well, so I've been up there and had chances on several occasions. I feel like I'm turning into a good player and if I keep working on the right things and keep my good habits then I feel like I can get even better and contend in even bigger tournaments. I'd love to play some of the majors and get onto the PGA Tour soon as well."
'Turning into a good player' feels like the understatement of the year. If winning twice on your rookie season & narrowly missing out on two more trophies doesn't qualify someone as a 'good player' yet – perhaps landing three course records along the way tips the scales in your favour. But what does something like a course record mean to a player of Ewen Ferguson's calibre?
"I think that shooting 11 under par in one round of golf is something to be proud of. I mean, even if you shot 10 under it would still be unbelievable. Double figures under par for one round is amazing. The course record a couple of weeks later was nice and then my other one after that actually got beaten soon after. I think that all that kind of stuff just comes with not focusing on trying to do these things, but instead focusing on the things you can control. Just yourself, feeling good with your team, feeling good with everything that's going on around you. Then these things can look after themselves.
You definitely get confidence when you keep backing it up. You get confidence from playing with other players that you've looked up to for a long time and then you end up competing against them and sometimes beating them! Especially since I've started to play with some of the more "star" players & playing in featured groups. I played with Cameron Smith in a 2-ball; I was playing with Thomas Bjorn, Westwood, Fleetwood – all these guys.
I'm starting to feel comfortable in my own skin during tournaments, around the good players that you're playing with. I think that's why I get so much confidence from it all - playing with them and playing well. I've played with some players that I've looked up to for a long time and they've been amazing and I feel that my game has been able to match them and compete with them. I just need to keep doing what I'm doing and try to get myself into contention to win."
The level of confidence and self belief that Ewen has is clear to see, but it comes with a strong sense of humility and decorum which is perhaps a little more rare to find in a tour level golfer. This is just one of the many reasons why we at Golfposer.com chose to get on board with Ewen Ferguson. If you've seen any of Ewbo on your TV screens or on social media this year, you'll have already noticed the iconic Golfposer logo on the right side of his chest.
"People ask me all the time about your logo! They say it matches because I'm a bit of a golf poser myself – so I think it works quite well. A lot of people ask me when I'm practicing and stuff like that. They're like "well, what is it?!" Fellow players, your local guys at clubs as well. So I always try to explain who you are and what you do. I've had a few people asking me if they can get discounts as well... but I pretend that I can't just so they can pay the full whack!
Since I've been wearing PUMA, a lot of people have been really impressed and really like it because the stuff is a bit different. The other week I wore a shirt with guitars on it and I love my music so I was just like "I NEED THAT!"; so you guys sorted it out for me. I like some of the stuff that's kind of different and cool, just a bit funky you know? It's cool to be a bit different; especially when golf can be a bit boring at times. People think that it can be a bit of a boring game but it's definitely getting a bit of spice about it now. I think some of the clothing helps with that."
The Golfposer x Ewbo handshake was formally announced to the world on football transfer "Deadline Day" back in January; another sport which Ewen also has a strong affinity for. He's a big fan of Rangers Football Club, who have often recognised his successes through a variety of means.
"They've been really good with me; they invite me everywhere! They invited me on the charter for the Europa League final in Seville which was amazing. Meeting all the players, playing golf with the players, playing golf with the sponsors of the club. I also try to give a little back because of the way they help me out. They invited me onto the pitch at half time in an Old Firm match but I wasn't too keen to be the centre of attention at that moment; maybe another game where it's a little less divided.
But yeah, it's been brilliant to have been so recognised by the club and just to be around people like that is inspiring. The last time I went to a game I was in the Blue Room with Sir Alex Ferguson which was quite cool. I met him and said to him that we had the same surname. He was like "I read about you last week!" – so that was really cool. Even stuff like that gives you confidence, you know? That inspires you to get better. I remember going home after that and thinking to myself "Sir Alex Ferguson was reading about you; you're obviously doing something right!"
I'd say I'm inspired by – not by any specific individuals – but by individuals when I'm at sporting events. I feel inspired and want to be successful because I'm watching them do well. For example, I don't support any Premier League teams (partly because I like Rangers too much) but when I go to a game I'm inspired by the atmosphere. I'm inspired by the build up. I'm inspired by all of that. I like to look at the way people act during the game. All that kind of stuff, the psychology side of things. I'm inspired by all the kind of "deep" things that are involved with sport, rather than just an individual like Ronaldo or someone like that."
The sport of golf can throw up some psychological challenges, which Ewen probably knows more than anyone. One such moment that we wanted to go behind-the-scenes on was the final day showdown at the ISPS Handa World Invitational. Ewen was in the final group which included one of his closest friends on tour, fellow Scotsman & Rangers fan Connor Syme. So, how did it feel to secure the win & beat someone who he has such a bond – a "bromance" – with?
"Honestly? It felt absolutely f***ing FANTASTIC!
All joking aside, it did feel good. Me and Connor are close but we obviously want to beat each other at the end of the day. So it was good to win and I'm sure we'll play together another time and he'll beat me. That's just the way golf & sport is. It hurt when I lost in Denmark, finishing second to Oli Wilson; that's just the way sport is. You're going to lose sometimes. It hurts and it sucks for him and I'm sure it was tough, but he'll have other times when he'll get wins as well. It was great, I just liked the fun of it all. I find being in those positions to be the most fun part about golf.
Sometimes I actually get a bit bored of first and second rounds because of that feeling in the last round – even if you're just trying to chase a top ten or whatever – it's just so fun. I do feel like I can get a bit lazy in the second round on a Friday, like if I know I'm going to make the cut or something. Because then I start to think to myself "well I've made the cut now, I just want the next day". It's about finding these little edges where you can improve on – there's always somewhere. I've kind of found that out the last couple of months and that's something I'm trying to work on."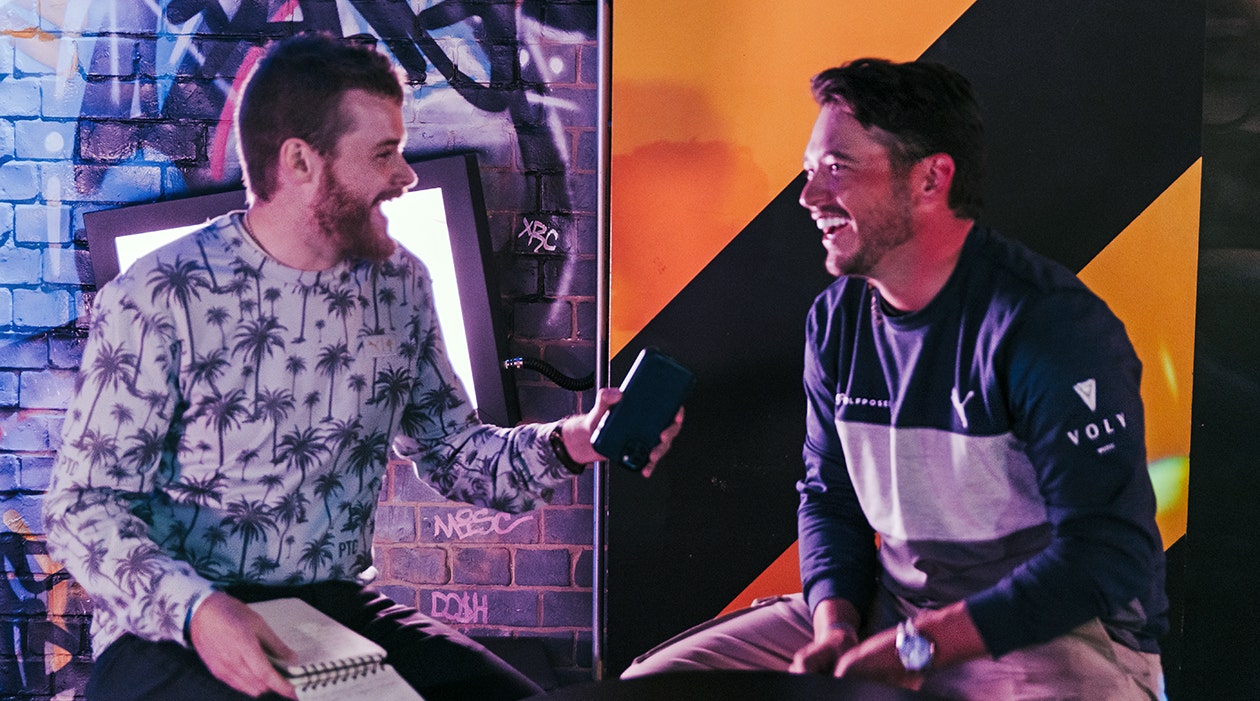 From the outside looking in, it definitely comes across as though Ewen is having the time of his life on tour at the moment. This week, he'll be teeing it up at the Dunhill Links Championship and only just recently featured in the DP World Tour's "14 Club Challenge" video with Victor Perez. But is there anyone else on tour who he spends a lot of time with that we don't already know about?
"I spend a lot of time with quite a few of the French players actually. I spend quite a bit of time with Romain Langasque, Antoine Rozner and guys like that – just some really good guys that I played with when I was young and got on really well with. They're really positive and work hard and I just like hanging with them. I also spend a lot of time with Jack Singh Brar...people with a similar mentality. Same chat, same BS stuff that we talk about. So yeah, a few of the French guys and then Ryan Fox, a few of the South Africans like Oliver Bekker as well. A few random friendships in there, but definitely guys that push you on to do better as well."
As our conversation draws to a close, we circle back on a comment that Ewen made earlier in the evening. One of the PUMA polo shirts that he has worn this season was the "Chords Polo" – a shirt which has little guitar motifs printed all over.
"I'm really big into music! I listen to country music all the time, American country music. I just like the vibe of it. It makes me feel good. I feel like there's an upbeat side which you can listen to when you want to be happy, in the car or waking up or whatever. Then there's a bit of a slower side if you're a bit tired or just want to chill, then there's a sad side if you're sad and things like that. I just like it! Right now I'm listening to a lot of Morgan Wallen (a country artist); you've probably never heard of him! I like his stuff. It's music with a bit of a story to it."
A quick look up on Instagram suggests that Morgan Wallen is a bit of a golfer, too. So, who knows? Maybe we'll see Ewen Ferguson teeing it up alongside Morgan Wallen at the Dunhill Links Championship next year. Watch this space!