The very first all black Air Jordan golf shoes are now available online to Golfposer in the shape of these stunning Air Jordan 1 Premium Leather high top golf shoes. Scroll on below to get the low down on the newest AJ1 silhouette - the sixth Air Jordan golf shoe release to date but be fast because they won't be around for long!
Black Air Jordan Golf Shoes | AJ1 Premium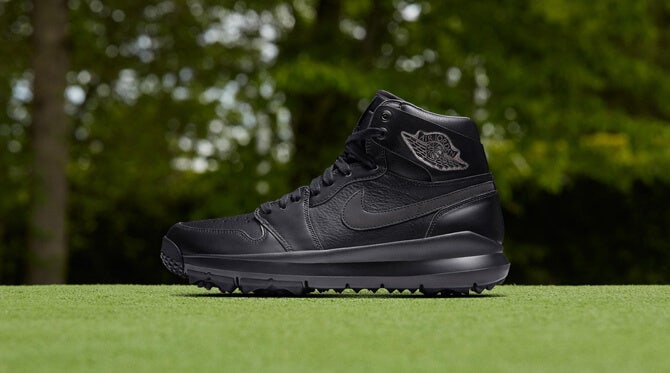 For the first time, the Nike Air Jordan 1 Golf shoes will boast a premium leather upper which has a handful of design quirks to excite us even more. Aside from the stealth-like jet black aesthetic, these Air Jordan golf shoes are fully waterproof (guaranteed for one year) to provide you peace of mind if you do indeed choose to wear them on the golf course.
Furthermore, the upper of the AJ1 will actually develop a gorgeous looking patina effect on the leather over a period of time. That won't just be something beautiful to look at, but "leather aficionados use the term to describe the ageing of high quality leather". Excited yet?
Black Air Jordan Golf Shoes | Release Date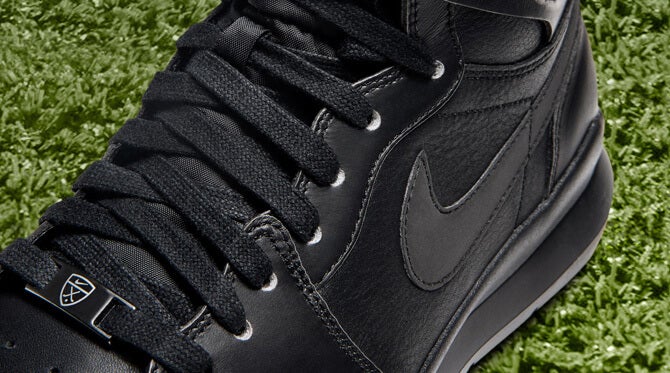 The Air Jordan 1 Premium golf shoes will be available to purchase online at Golfposer on the official launch date: December 15th, 2017. As always with any new Jordan golf shoe release, the numbers available will be extremely limited and once they're gone - they're gone for good.
It goes without saying that these triple black Air Jordan golf shoes will be in very, very high demand. Given that the previous colour options for the Air Jordan 1 golf shoes (the OG white/black/varsity red and the all white) both sold out in record time earlier in 2017, our sales team are expecting the first ever AJ1 Premium golf shoes to fly off the proverbial shelves at the same rate - if not quicker.
Black Air Jordan Golf Shoes | Buy Online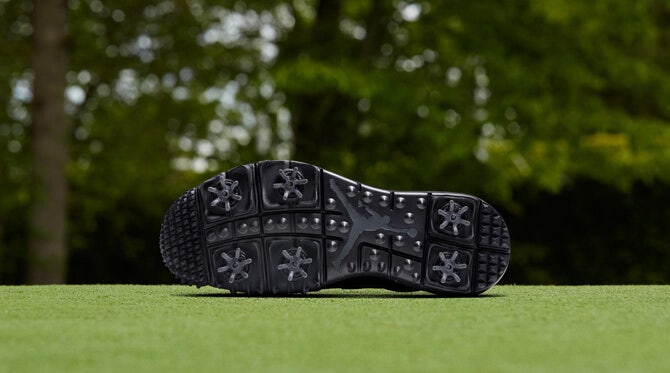 What we would encourage you to do is sign up to our email database so that you receive any more announcements and updates on the Air Jordan 1 premium first. You can also create an online Golfposer account to make life easier when it comes around to the release date itself, taking you seamlessly through the ordering process.
Check back on our dedicated Air Jordan Golf Shoes page here on the morning of Friday the 15th of December, where the AJ1 Premium will be showing as available to purchase.
Black Air Jordan Golf Shoes | Nike 2017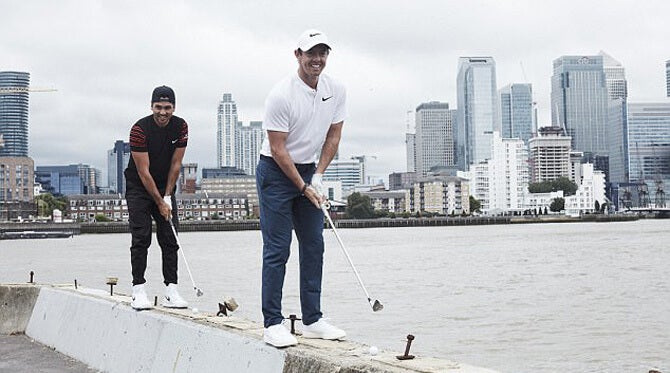 Nike Golf have already enjoyed some incredible success with their Air Jordan golf shoe releases so far in 2017. Way back in February we were introduced to the Air Jordan 1 golf high tops for the first time, then available in two colour options. Following that, we had another iconic silhouette become available in May in the shape of the Air Jordan 13 - also available in two colours. A third colour option for the AJ13 came in August, which was the most recent release until now.
In truth, we think that these black-on-black-on-black Air Jordan golf shoes will have even greater appeal than anything that's come before (perhaps with the exception of the OG AJ1 in varsity red). They look utterly stunning and feature this unique premium leather upper which will only look better with age - while the shoe itself was greatly tested by Jason Day at the Open Championship and clearly performs well on the golf course.
Some of you might not choose to actually wear these out on the golf course but, for those who do, you can be sure that you will be one of the very few to ever rock a pair of these all black Air Jordan 1 premium golf shoes.
Read next: Jason Day Golf Shoes