We chat to European Tour golfer and adidas golf brand ambassador Adrian Otaegui about all things fashion, footwear, adidas Go-To Jackets and the Ryder Cup.
Adrian Otaegui | adidas Golf
GP: Hi Adrian, it's a pleasure to meet you & thank you for taking the time out to speak with us today. You've been wearing adidas on the course for the last four and a half years now - how much do you enjoy being part of team adidas?
AO: Yeah I really enjoy it. I feel really lucky to be able to represent adidas on and off the course. For me, it's the best brand in sport. It's just so technical, so comfortable and I think that it's really good looking as well - in terms of style. For me, adidas means sport but it also means fashion.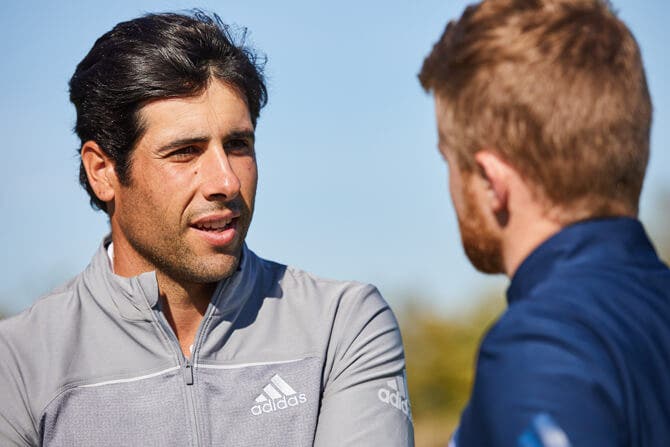 GP: Some others in the media have called you "a sponsor's dream" - I guess it must be a very strong relationship that you have with the brand to stay with them for this many years?
AO: So I turned pro like six or seven years ago and I started with them around four of five years ago, as you say. The relationship is growing in a good way and hopefully for many, many more years. I think they're happy with me and I'm definitely happy with them - so I think we make a good connection.
Adrian Otaegui | Go-To Adapt
GP: How much do you enjoy being one of the faces of adidas golf with all of the campaign photo shoots and press event days like this?
AO: I like it! I like the show and all of the fun parts of it. On the course and in competition I try to be very focused and in my zone - but I really enjoy the days like this as well. We can relax, we have fun and get to do things like the sky dive this morning.

GP: I was going to ask you about the sky dive, you looked like a professional! How did you find it?
AO: I loved it! I knew I was going to like it because I like adrenaline sports - even though I was a little bit worried about getting injured at this stage of the season. I tried it for the first time and I thought "this is fine, I can do this" - so it was fun to be a part of the presentation for the Go-To jacket earlier on.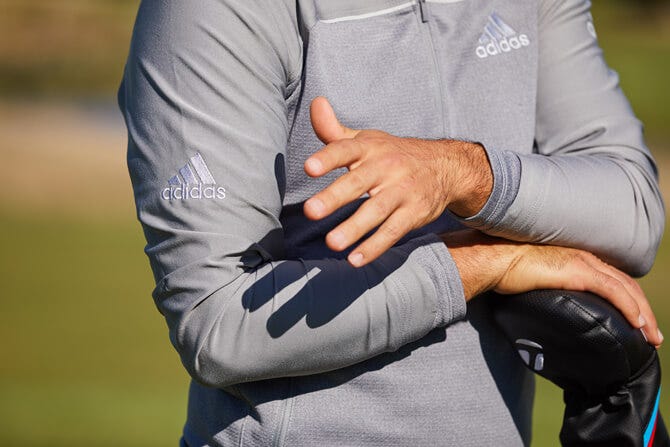 GP: And what do you make of the new Go-To jacket that has been launched today? We saw you wearing it at Made in Denmark earlier this month too…
AO: Yeah, obviously it has been a hot summer so I didn't need to use it a lot in the Summer months - but as soon as we come to Europe in the Autumn…as you say I was wearing it in Denmark every single morning because it was quite chilly. Normally, I get quite hot when I'm playing on the course - but I love it for wearing in the mornings to warm up especially. It's just great in the way that it moves and the way it stretches; in terms of technical performance I don't know anything better. It's just so hot, so light and I love the way these cuffs are designed too.
Adrian Otaegui| adicross
GP: What's your sense of style like off the golf course? Do you have a keen interest in fashion and looking good everywhere you go?
AO: For me, it depends. It depends on what moment of the day or what part of the day it is. I'm normally quite relaxed - something like a tee shirt and jeans with my adidas sneakers - generally quite relaxed. If I'm going for dinner then I would wear a nice shirt and some nice trousers but still quite relaxed - no suit and tie! That's another thing that I like about adidas - how it's so versatile and you can wear it 24 hours a day. The range is so big that you can use your imagination a little bit day-to-day.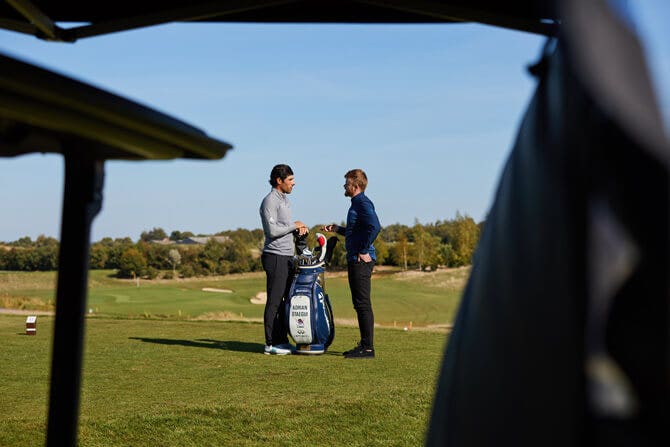 GP: Have you had the chance to try out any of the new adicross collection by adidas?
AO: Yeah! I normally wear adicross during my practice days at home - I find it very, very comfortable and relaxed. I know when I'm in Dubai in the winter time, for example, then I can wear it for a practice round there too. Once, I was travelling on a flight in the morning and then had to practice in the afternoon - I didn't even get changed! I flew in the same outfit that I wore practicing at the course later that day. I love it.
Adrian Otaegui | Footwear
GP: And when it comes to footwear, can you possibly pick a favourite shoe style that adidas have produced over the years?
AO: I think that the 360 has always been good for the last two or three years, it hasn't changed much but it doesn't need to - it's that good already. That's still my favourite shoe. You might remember the "adizero" shoes in yellow a few years ago - they were very light - but my favourite shoe to play golf in is definitely the Tour360 leather.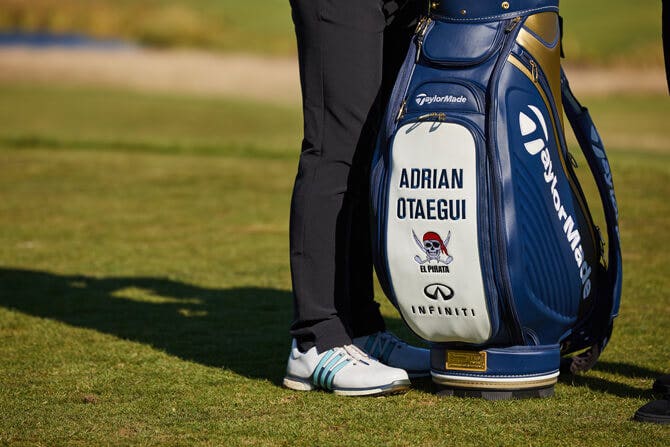 GP: Do you have any style traditions or superstitions on the golf course? Perhaps something like your nickname "el pirata" sewn into every garment you own?!
AO: Haha, no not really! I do have "el pirata" on the back of my cap but nowhere else. I don't have any superstitions really. I like wearing plain shirts - not too many stripes or other designs.
Adrian Otaegui | Ryder Cup
GP: And finally…who will win the Ryder Cup this year?
AO: It's going to be really tough for Europe - the American team is very strong this year. I really hope that the Europeans can kick their asses, but it will be tough for sure. It's going to be a good test of golf. I think that the way that the golf course is going to be set up is going to be good for Team Europe; the par fives will be reachable but the par fours are going to be tough. I think that we are generally better at the long iron shots and they are better with the wedges close to the greens; which I think Thomas Bjørn knows all about and will have the course set up accordingly. I know it's going to be a good show; it will be a spectacle for sure.
GP: Thanks again for your time today Adrian, enjoy the rest of the day!
View this post on Instagram
Our sincere thanks to Adrian Otaegui for taking the time out to speak to us in London & also to the teams at adidas Golf and Rocketyard Sports Management for their hospitality throughout the day.