The next limited edition CODECHAOS footwear style celebrates an adidas Summer of Golf with a tie dye inspired design - ready to drop online at Golfposer this month.
[product id="75276"]
adidas Summer of Golf | CODECHAOS
It might have been a delayed start to this year's Summer of Golf - but it's finally here with aplomb now that we're all back playing some kind of golf and the PGA Tour has resumed behind closed doors.
That also means that the countdown is on to the first major championship of the season; the US PGA Championship at TPC Harding Park in San Francisco.
We're also excited to see the abundance of tie dye inspired golf apparel & footwear which has been designed to celebrate the host location of the US PGA 2020. That includes the next limited edition drop from the adidas CODECHAOS franchise which is ready to drop online this weekend.
adidas Summer of Golf | Tie Dye
The tie dye effect isn't only to embrace one of the hottest fashion trends this Summer, but it's also a nod to the city of San Francisco and the "Summer of Love" social phenomenon which the city is famous for.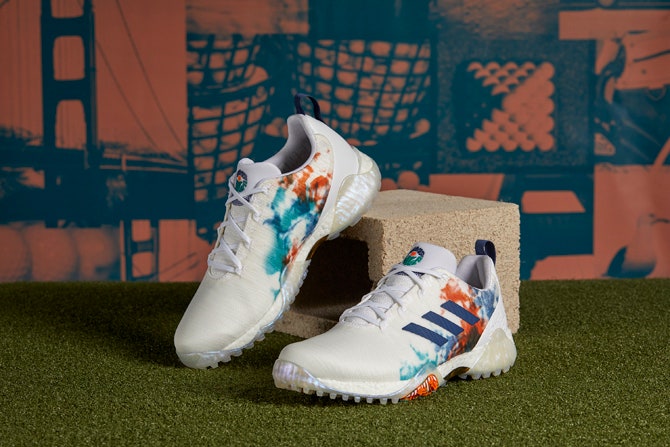 This multi coloured effect brings the CODECHAOS lace up shoe to life and is complemented by the metallic gold elements featured within the outsole. The adidas Summer of Golf logo is featured on the tongue, while an iridescent finish is also featured through the TPU outsole.
The adidas CODECHAOS golf shoes have already been winning awards in the industry; most notably the "best spikeless golf shoe for 2020" from MyGolfSpy. You can find out so much more about the adidas CODECHAOS franchise right here - but all you need to know is that they're seriously good.
adidas Summer of Golf | Buy Online
The adidas Summer of Golf CODECHAOS golf shoes will drop online at Golfposer on Saturday 20th of June 2020. Click through the link below & submit a "request a size" form to register your interest in a pair.
[product id="75276"]
Read Next: PRIMEBLUE by adidas
Shop Next: adidas Golf 2020