We take a closer look at the adidas Silver Boost golf shoes which have just been revealed by the brand ahead of THE PLAYERS Championship 2018.
adidas Silver Boost Golf Shoes | New Footwear
We all know and love BOOST™ technology, right?
We love those, soft looking little balls of comfort which are visible across the very top adidas footwear styles; we love the responsive cushioning which we can feel with almost every stride we take; we love the signature aesthetic which makes them unmistakably adidas. But one thing we don't love - probably the only thing - is the hassle of cleaning those bright white little balls of comfort.
Introducing - adidas SILVER BOOST™ golf shoes.
Much like the "triple black" family of adidas BOOST™ golf shoes which arrived earlier in the year, this all new "silver pack" marks the first time that adidas golf shoes have been made available with BOOST™ foam cushioning coloured anything other than black or white.
Very few technologies transcend across multiple sports with equal success, but the proprietary BOOST™ franchise does just that for adidas. Its popularity and success in golf has probably never been so high, either. This is largely thanks to the introduction of the all new family of styles for 2018, thus including the Tour 360 Knit, the Tour 360 Leather 2.0 & spikeless Crossknit 2.0.
Scroll on below to find out much more on all three styles and click through any of the images to shop them online at Golfposer.
adidas Silver Boost Golf Shoes | Tour 360 Knit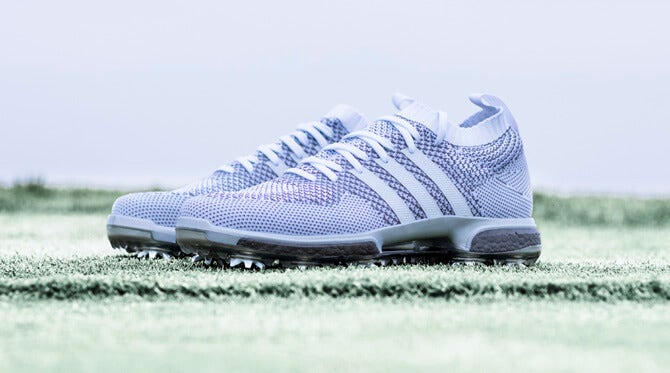 The adidas Tour 360 Knit BOOST™ golf shoes have been a revelation this season. We simply love the technical Primknit™ upper with its high degree of breathability and the soft, knitted comfort collar at the ankle - while the Climastorm overlay ensures a good degree of waterproof protection is still provided.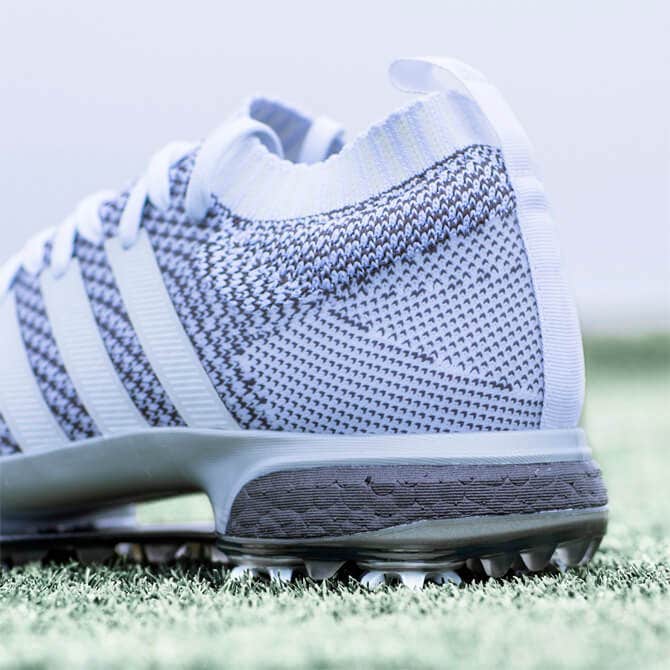 The ultra responsive BOOST™ cushioning helps to enhance the comfort factor once more, while the lightweight TPU three stripes intertwine with the lacing to ensure a locked down fit is provided. Definitely our favourite pair of golf shoes to come from adidas for 2018, for sure.
adidas Silver Boost Golf Shoes | Tour 360 Leather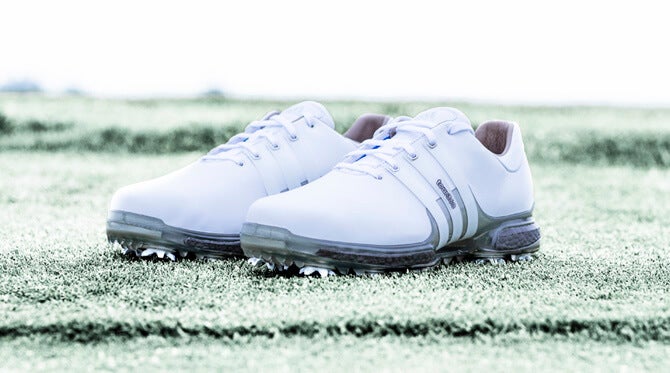 Golf shoes don't come much more iconic than that adidas Tour 360 and this updated 2.0 version takes comfort to new heights. The premium leather upper features Climaproof waterproof protection, while the soft leather heel lining is perfect for walking 18 holes or more.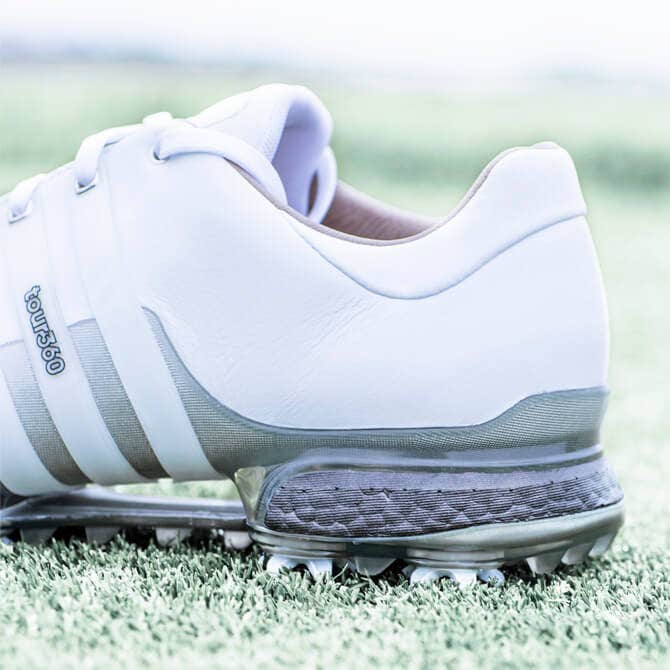 There's a reason for the Tour 360 being the most popular choice among the adidas roster of athletes. Pure stability, comfort and performance with clean looks and the iconic 3 stripes - now finished with grey coloured BOOST™ to stand out for all the right reasons.
adidas Silver Boost Golf Shoes | Crossknit 2.0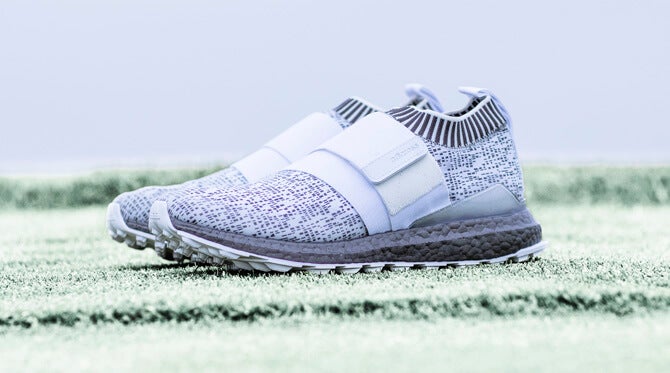 The all new adidas Crossknit 2.0 golf shoes are one of our favourite spikeless styles in the game right now. A super unique and technical aesthetic is on offer and is complemented by the wide over-the-foot strap, a feature which also helps to enhance support with a locked down fit.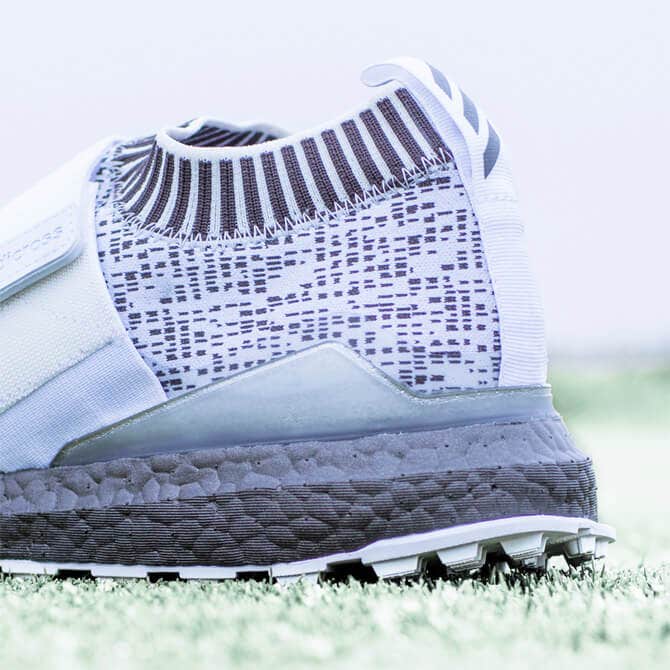 One of our favourite features is the soft, knitted comfort collar at the ankle. These one-piece bootie designs are becoming ever more popular in the footwear market and provide a sock-like fit for pure comfort on and off the golf course. We're almost getting spoiled so much that regular, conventional shoe tongues feel uncomfortable...
adidas Silver Boost Golf Shoes | THE PLAYERS
To celebrate the release of the adidas Silver BOOST™ footwear styles, the very top adidas athletes will be wearing the shoes on Friday of THE PLAYERS Championship 2018.
Look out for the likes of Sergio Garcia & Dustin Johnson wearing the Silver coloured BOOST™ at TPC Sawgrass this week, while others including Tyrell Hatton, Xander Schauffele & Haotong Li might just be wearing the silver BOOST™ styles too.
adidas Silver Boost Golf Shoes | Buy Online
We are very excited to bring you all three of these adidas golf shoe styles online at Golfposer. Click any of the links below to shop the Tour 360 Leather, Tour 360 Knit and Crossknit 2.0 with SILVER BOOST™ colouring by adidas golf.