We're very excited to reveal the first ever adidas golf x Parley collaboration ahead of the US Open 2019. Scroll on below to find out everything you need to know about these super limited edition adidas Parley Golf Shoes.
adidas Parley Golf Shoes | Limited Edition
We are incredibly excited to reveal the first ever adidas golf x Parley collaboration - coming soon online at Golfposer.

The two brands have previously worked closely across other footwear divisiions in a bid to help clean up our dangerously polluted oceans, making excellent use of recycled ocean plastic to produce some of the best shoes on the market.
"We are committed to making a change above the surface by creating products spun from Parley Ocean Plastic, Plastic that has been intercepted from entering the world's oceans " said the brand's press release. "The TOUR360 XT Parley golf shoe is an eco-innovative solution turning the threat into a thread."
adidas Parley Golf Shoes | Tour360 XT
These golf shoes are based on a new & improved silhouette which is the next generation design of the adidas knit boost from yester-year.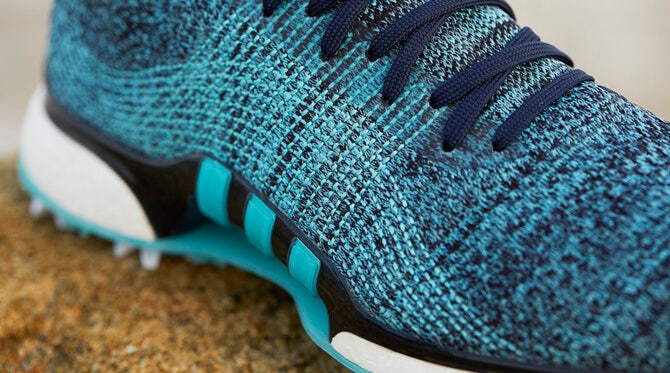 Now named the adidas Tour360 XT Primeknit BOOST - these golf shoes feature a handful of design updates which elevate the style to the next level. The adidas Primeknit upper is super lightweight, highly breathable and ultra comfortable to wear with a sock-like feel, while the soft knitted one-piece bootie also hugs the ankle for comfort on the course like never before.
The low-profile features this season's newest technology named X-Traction - enhancing grip and performance in all conditions thanks to the secondary, sub-cleat multi directional lugs. A new sockliner enhances step-in comfort once more, while the full length BOOST cushioning continues to provide ultra responsive comfort from heel to toe.
adidas Parley Golf Shoes | US Open
The brand have just announced this extremely exciting collaboration on the 5th of June - known as #WorldEnvironmentDay and raising awareness of climate change and the dangers which the environment faces on all fronts.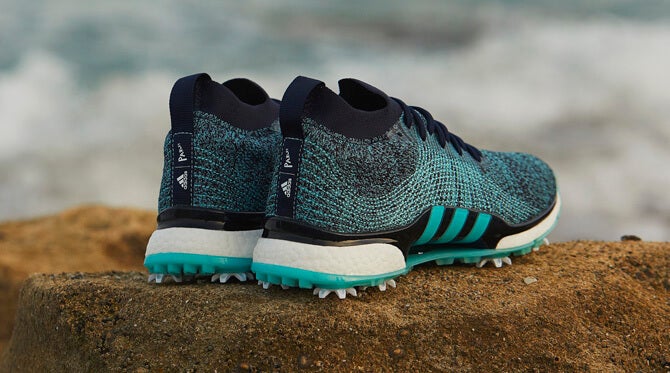 To further celebrate the collaboration, we can also expect to see some of the top adidas brand ambassadors wearing these golf shoes at next week's US Open at Pebble Beach.
These stunning adidas Parley golf shoes will drop online at 16:00 BST on Monday 10th June. Check the link below at this time and act quickly to grab your pair from Golfposer, as these limited edition golf shoes certainly won't be around for long.