Introducing the new adidas CODECHAOS golf shoes - a truly special line up of golf footwear which is sure to disrupt the market in 2020 and only available from a select group of online retailers.
One of the most progressive and pioneering brands in the game of golf is here to DISRUPT in 2020 - pushing boundaries like never before. For adidas golf, it all starts with the CODECHAOS family of footwear which is here to challenge convention and redefine the term "golf shoe".
The adidas CODECHAOS family is fronted by one of the most outstanding golf shoes we've ever laid our eyes upon - named the CODECHAOS Primeknit BOA. It's packed full with technologically advanced features, some of which are tried and tested while others are pioneering, never seen in golf footwear before.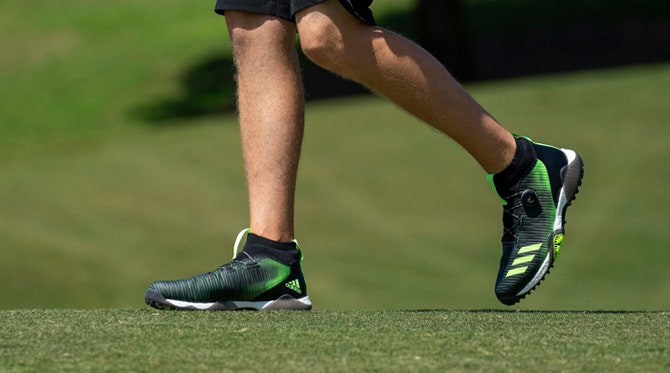 Along with providing exceptional value for money with regards to the level of technical detail included, the adidas CODECHAOS Primeknit BOA golf shoes also feature a progressive mid-top silhouette with a soft, hydrophobic stretch-knit bootie reaching comfortably towards the ankle. This type of styling has rarely ever been seen in golf footwear because, ordinarily, a mid top bootie construction would result in the price sky rocketing. Thankfully, that's not the case this time around.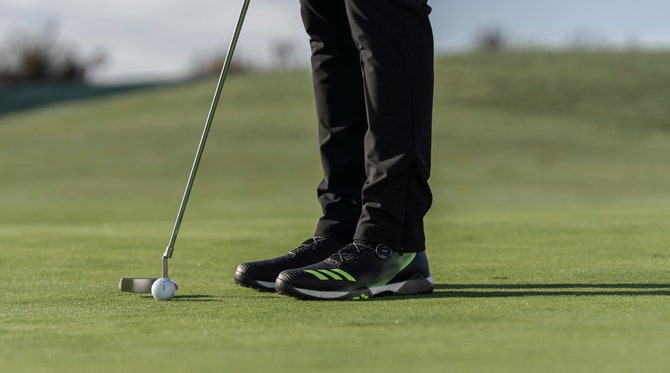 For our money, these adidas CODECHAOS golf shoes look stunning in all four colour options. Pair them with shorts or pair them with trousers; it really doesn't matter how you choose to style these progressive and modern golf shoes on the course this season. You could even wear them away from the course too, thanks to the brand new spikeless rubber outsole with TPU "Twist Traction" inserts.
Read on below to delve deeper into the technical spec of the adidas CODECHAOS Primeknit BOA golf shoes - exclusively available to shop online.
adidas CODECHAOS | Primeknit Upper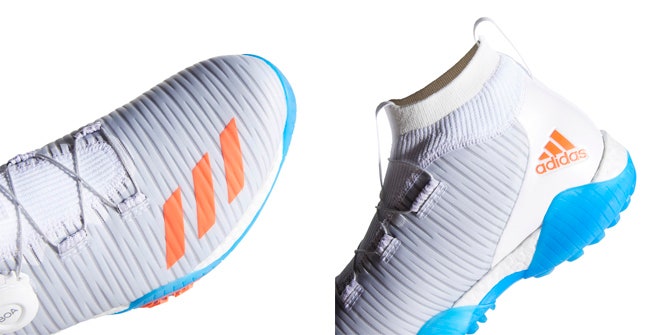 One of the most exciting features is the Primeknit mesh upper which is completely new from adidas Golf. For the first time ever, the brand have introduced a multi layered construction which provides enhanced durability and waterproof protection, all while ensuring lightweight comfort, breathability and support is left uncompromised. The mesh is also finished with a smooth coating of film, further enhancing performance in all conditions.
adidas CODECHAOS | BOA Lacing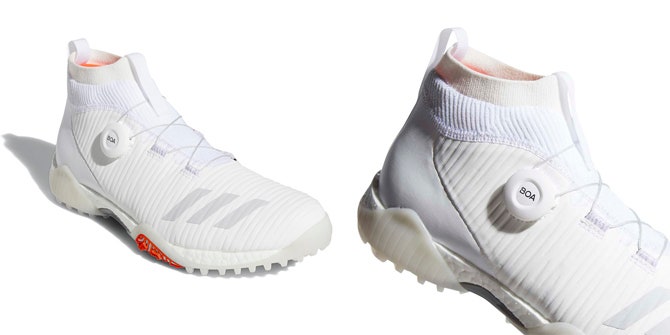 The mid-top version of the adidas CODECHAOS golf shoes also makes great use of BOA Technology - an alternative lacing method which is already dominating various other markets in the world of golf. The reliable L6 Boa ® Fit System provides players with a customized and locked-in feel; simply twist the dial to fasten and pull the dial upwards to unfasten again. Quick, easy and convenient with an improved fit; you only have to try BOA once to understand why it's so popular around the world.
adidas CODECHAOS | BOOST Cushioning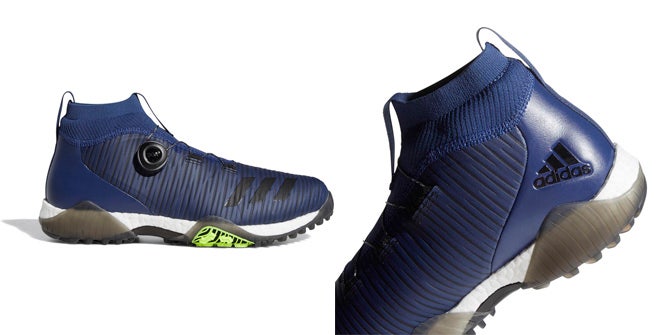 If you don't know about BOOST - where have you been all these years? This proprietary foam cushioning is renowned the world over and continues to prove incredibly popular across all of the adidas footwear departments, golf included. As with many previous tour-standard golf shoes from adidas, the CODECHAOS Primeknit BOA also features full length BOOST cushioning for all-around comfort and energy return, no matter how long you are on the course.
adidas CODECHAOS | Spikeless Traction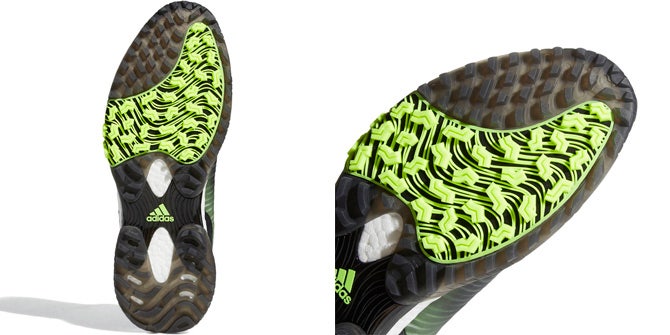 In another "first" for the brand, adidas have introduced a spikeless outsole to their top level, tour spec golf shoe. A bold move, indeed - but one which has already struck a chord with their very best athletes on tour including Sergio Garcia & Dustin Johnson.
The spikeless outsole is highly technical in its design, blending a soft and durable rubber outsole with a first-of-its-kind TPU insert. The proprietary traction system – Twistgrip – is also new and has been developed through the evaluation of golf swing pressure mapping, specifically focused on the way golfers distribute and shift their weight throughout the swing.
The footwear designers at adidas were able to determine exactly where traction was needed most and hence, which lug shapes would provide the best grip - regardless of conditions. Based on this machine testing, adidas landed on this unique grip configuration and enrolled the help of their very best athletes to make sure it provided maximum traction. It's all enhanced with the inclusion of a Torsion-X stability bar for tour standard stability and support with every swing of the club.
The CODECHAOS spikeless outsole is soft and comfortable enough to wear off the course, too. That means you have so many other opportunities to wear them en route to the practice range or to complete your sporty adidas looks on the street. They truly are that versatile.
adidas CODECHAOS | Buy Online
Four colours of the adidas CODECHAOS Primeknit BOA Golf Shoes are exclusively available to buy from selected online retailers and we're excited to be one of them. Click through any of the product links below to get your hands on these stunning mid top adidas golf shoes and keep an eye out for them being worn on tour throughout 2020.