Our style editors give you the low down on the limited edition adidas Blue BOOST golf shoes which have just been announced by the brand.
adidas Blue BOOST Golf Shoes | Limited Edition
Our friends at adidas golf have just revealed a fresh new family of BOOST golf shoes ready to hit the links this August. Following the hugely popular "Triple Black" & "Silver Pack" releases earlier this year, this new footwear line-up features "Raw Steel Metallic" BOOST foam colouring to catch the eye for all the right reasons.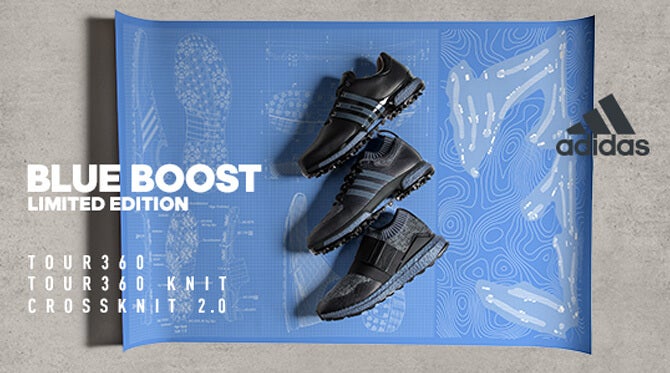 Global footwear director of adidas Golf, Masun Denison, said: "We know how much golfers like to express themselves through their style on the course, so we continued to push those boundaries with what we could do with our BOOST technology,"
"This blue version is meant to give players some added confidence through a unique look, but still give them the endless energy return that BOOST provides, whether they lace them up to play in the club championship or for a casual round with their buddies at home."
There are three distinct silhouettes featured within this family of three, with the finer details outlined below.
adidas Blue BOOST Golf Shoes | Tour 360 Knit
The first option is the hugely popular and innovative Tour 360 Knit golf shoes. This unique Blue BOOST option is the sixth colour way to become available online at Golfposer and is quite possibly our favourite to date.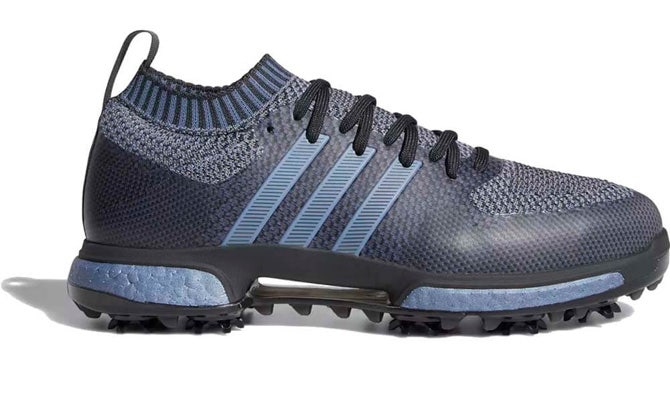 These quite stunning golf shoes makes use of a Primeknit upper (complete with waterproof protection) which allows for a breathable, lightweight feel. The soft ankle collar enhances the comfort levels further, while the thin TPU three stripes wrap provides much needed stability in performance. So incredibly comfortable and stylish to wear; these golf shoes are already a favourite for both Dustin Johnson & Sergio Garcia.
adidas Blue BOOST Golf Shoes | Tour 360 Leather
The Tour 360 BOOST 2.0 golf shoes are an updated 2018 style for one of the most popular ever adidas golf shoes. The leather upper is soft, comfortable & durable over time - while the 360 wrap ensures a locked down fit with incredible support.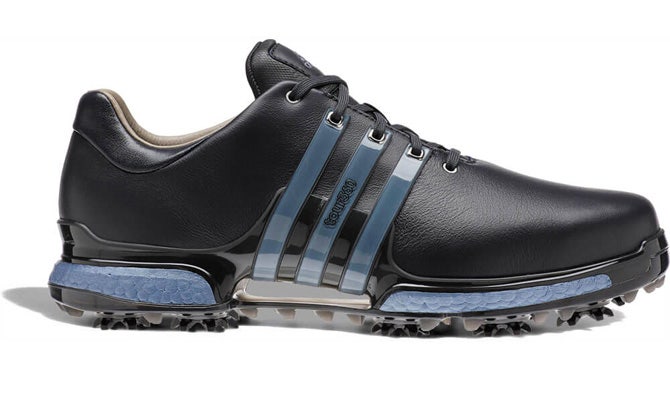 The adidas Tour 360 golf shoes continue to prove as a favourite for many professional & amateur golfers alike - and it's very easy to understand why. We simply love these Blue Tour 360 BOOST golf shoes - offering a unique twist on the traditional adidas aesthetic.
adidas Blue Boost Golf Shoes | Crossknit 2.0
The Crossknit BOOST 2.0 golf shoes come from the adidas adicross range for 2018 and offer lightweight support & comfort for wearing both on and off the golf course.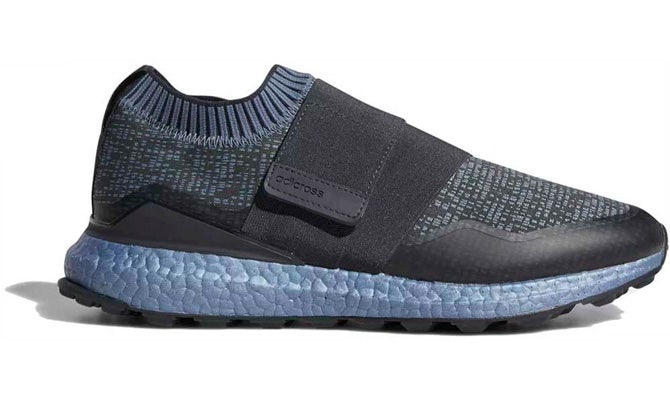 The Circleknit upper is stylish, flexible & breathable - while the soft ankle collar helps to provide a sock-like fit. The rare blue BOOST colouring is incredibly easy on the eye and matches up with the blue fleck which is featured through the upper, helping to round off the look perfectly. One of our favourite spikeless golf shoe styles for 2018 - for sure.
adidas Blue BOOST Golf Shoes | History
Traditionally, the proprietary adidas BOOST foam can only ever be coloured white - it's original base colour. There is simply no way of introducing a dye into the manufacturing process, which would significantly alter the composition and beneficial properties offered by BOOST foam. So, the clever designers at adidas came up with a different method - and a completely new material.
The traditional BOOST aesthetic can now be transformed using an expensive, unique painting process - especially developed for this specific purpose. The paint allows for the responsive cushioning to remain unaffected, while the paint itself is durable enough to ensure that there will be no cracking over any length of time & use.
adidas Blue BOOST Golf Shoes | Shop Online
All three adidas Blue BOOST golf shoes will become available to purchase online at Golfposer on Wednesday August 1st, 2018.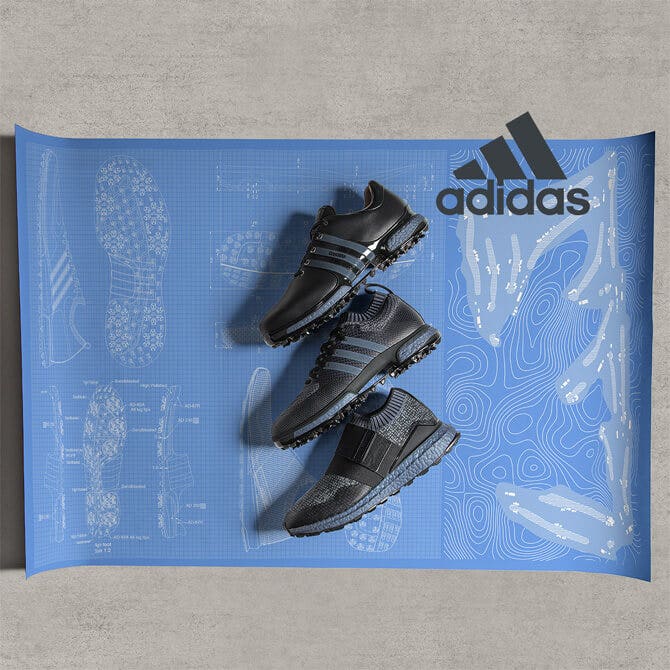 These limited edition golf shoes are sure to prove popular - so you better act quickly to secure your size in any of the rare Blue BOOST golf shoes this season.
Read Next: adidas adicross golf apparel & footwear
Shop Next: adidas golf shoes 2018