TravisMathew is the newest brand to arrive online at Golfposer and we were very excited to sit down with the brand's President, Ryan Ellis for an exclusive interview.
Exclusive Golfposer Interview
GP: Hi Ryan, thanks for taking some time out to chat to us today! We're incredibly excited to welcome TravisMathew into our roster of brands for 2019 and beyond - so we've just got a few questions lined up which will hopefully help to introduce the brand to our followers.
We've admired TravisMathew for many seasons, but we know that a high percentage of our readers may not know so much about the brand. In a nutshell, can you tell us a bit about the history of TravisMathew and what your role in the company is today?
RE: TravisMathew was started 7/7/07 out of what felt like a necessity to offer fashion attire in golf that looked great but was versatile. As all the golf brands were offering pure performance product, no one was bridging the gap between product you can play golf in, and product that looks great away from the course. Essentially, golf attire was a uniform and we felt there was an opportunity to look better while you played and be able to transition that same product from the course straight to whatever you were doing next.
My history with TravisMathew started as the first employee hired back in August of '07 to run sales. We quickly learned our success was stemming from creative ideas as well as customer feedback to make those ideas sellable and wearable. After a few years I was running sales and merchandising to offer customer perspective, and eventually took over managing the entire creative process. I am currently the President of the company and in my 11 years have worked almost every role in the company which has offered me great versatility, but my passion continues to be the product itself.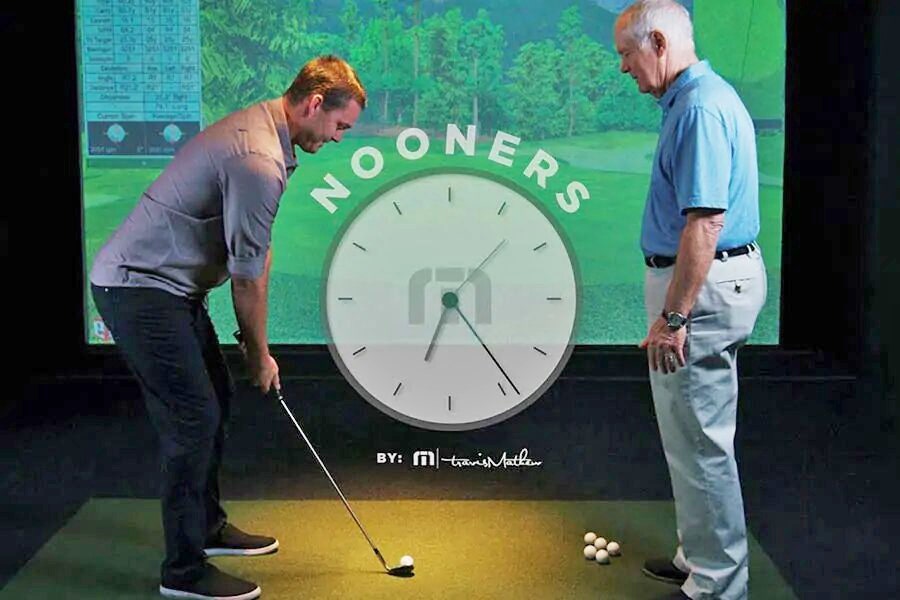 GP: So you've been a key player at TravisMathew since the very early beginnings - how have you seen the brand grow and develop in that time? Are the core values very much the same?
RE: The core values have actually really changed and evolved. We started as a competitive group that did whatever it took to win, which typically meant working harder but not necessarily smarter. That changed when Travis Brasher (our CEO) came in full time in 2010 to get us working harder and smarter; with the net result being not only rapid growth - but growth without letting either our retail partners or end consumers down in terms of service or quality.
We have developed a culture of disruptiveness by challenging conventional ideas. Whilst we are by and large the same group of people (we are proud of how many staff have been with us from the outset), we continue to evolve to stay one step ahead of the marketplace.
GP: In those early days, TravisMathew was created to offer something different to the bright, funky golf apparel which was dominating the fairways at the time. Would you go as far to say that TravisMathew helped bring this new era of "golf athleisure" to the fore?
RE: One of our core values is to be humble, so it's hard to talk about what we have created without recognizing that there were brands before us that were doing great things. J. Lindeberg was an inspiration for us early on as someone who was doing performance wear that looked good off the course, so we will absolutely give them credit, but we were able to sort of double down on that concept and create a look that, we believe, was completely unique. I think we did more than bringing athleisure; we brought style to guys that were craving it.
Shirts that were more tailored (we're probably still the only brand to have collar stays sewn into all our polos), high quality fabrics (e.g. Peruvian Pima Cottons) that are more flattering on the body and styling that matched what they wore when they weren't golfing. Now that more companies have started following this direction, we have evolved and continue to try and be at the forefront of fashion and particularly being innovative with fabrications that look casual - but still perform.
GP: We're seeing more and more "golf culture" creeping into what we wear on and off the golf course. How important are the more fun, humorous products like the tee shirts & snapback caps in spreading the gospel of TravisMathew?
RE: One of the key terms we use at TravisMathew is aspirational. It's really important in these days where people have access to so many great brands online that we create an experience for the customer. Our customers feel attached to the product because it is a lifestyle, something that brings fun and excitement.
We do this often through our marketing and our stores, however the humorous product is a great way to do that as well. When you look at a brand like Tommy Bahama, you wear it and feel like you are in the islands.
When you look at our brand you definitely get a beach vibe, but you also feel classy and sophisticated. You feel like someone who travels, doesn't take himself too seriously and overall just loves having a good time with friends and family - whether that's on or off the golf course.

GP: TravisMathew reminds us a little bit of ourselves at Golfposer; it seems like the brand has a close-knit, passionate and dedicated team who put the customer at the forefront of everything. Do you think this is another of the key attributes which sets your brand apart in the eye of the consumer?
RE: That has been tough to quantify, understanding what the end consumer sees and understands about the internal team at TM and their passion. The customers we can touch through our website, stores & social media activity will get that message.
I think more than anything the customer that buys TM understands quality first and foremost, and when quality matches an experience then they have a brand that they can get behind. I also think our customer sees how we put the brand first by maintaining a full price brand with integrity so when their friends see them in TM they know they are wearing quality product and a quality brand.
GP: One fact which amazed us was the number of fabrics that gets tested by your team. Do you believe that this painstaking task has finally resulted in a fabric which offers the perfect blend of performance & lifestyle?
RE: Fabric is where I will actually lose a little of my humility as it is something I take the utmost pride in. I do not know of any brand that has more great fabrications than we do, or designs into fabrications more than we do. To me not only do we offer a fabric which offers the perfect blend of performance and lifestyle, I believe we have 20+ fabrications that offer that. We have a magic combination of mixing Poly, Cotton, Spandex, Tencel and other fabrications to create blends that take the best properties of each and create something that looks great and withstands the test of time.
Minimal shrinkage, minimal fading, easy to treat, minimal wrinkling while still offering quick drying as well. Right now, we believe we have the best of the best in fabrics for polos, shorts, t-shirts, knit jackets, fleece and especially headwear. Our goal is to offer that in every category moving forward - including denim, outerwear, wovens, etc. We have a solid foundation in those other categories but will be expanding how we have with our core collection.
GP: You've built an amazing reputation in the USA over the last decade - does it feel like a natural time for the brand to spread its wings and explore the other global markets, Europe included?
RE: Absolutely. The only reason we have stayed away for the most part is we wanted to do it right and not screw it up. I am not from Europe, Travis is not from Europe and so we understand that we don't understand that market as well.
Over the past year we have been able to blend our knowledge of the brand and product with Callaway's knowledge of the European market to put together a great collection that we feel will give us an amazing launch. We have also started the same way we did in the US, with limited distribution for the best of the best. We have targeted just the very top retailers in Europe and the demand has been outstanding with the likes of St Andrews & of course Golfposer immediately buying in to what we are doing.
TravisMathew isn't right for every golf store but strong "Resort" distribution matched with placement in the right online accounts will help us create the same reputation in Europe that we have in the US.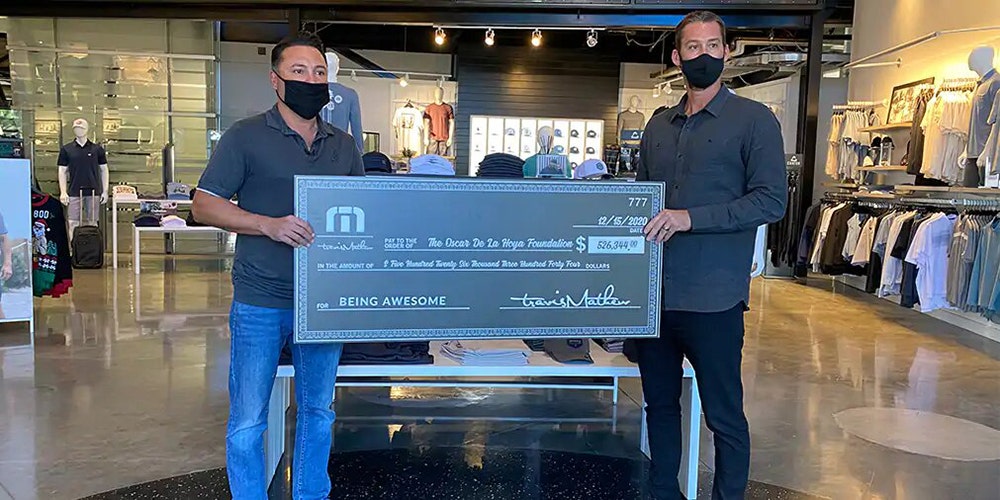 GP: We know for a fact that many people will recognise your TM logo without knowing about TravisMathew as a brand - where did the logo come from & did it ever have any other guises?
RE: We actually got extremely lucky with the logo. We had a logo design that we liked - sent it to be trademarked - then found there was another apparel company we hadn't heard of that had a similar logo. Rather than go through a legal battle since we hadn't used it yet, we decided to create a new one. Joey Quirk who is our current design director was consulting for us and he created it and it came out amazing.
Joey is extremely talented and (like me) has been with the brand for 11 years heading up the design team. There isn't a real hidden trick behind it, it obviously has the T hidden inside the M and a lot of people know us as TM - internally we call it the "TM icon". The public always calls it the M and we are killing it with guys with the first name M. They all seem to think we made the logo for them!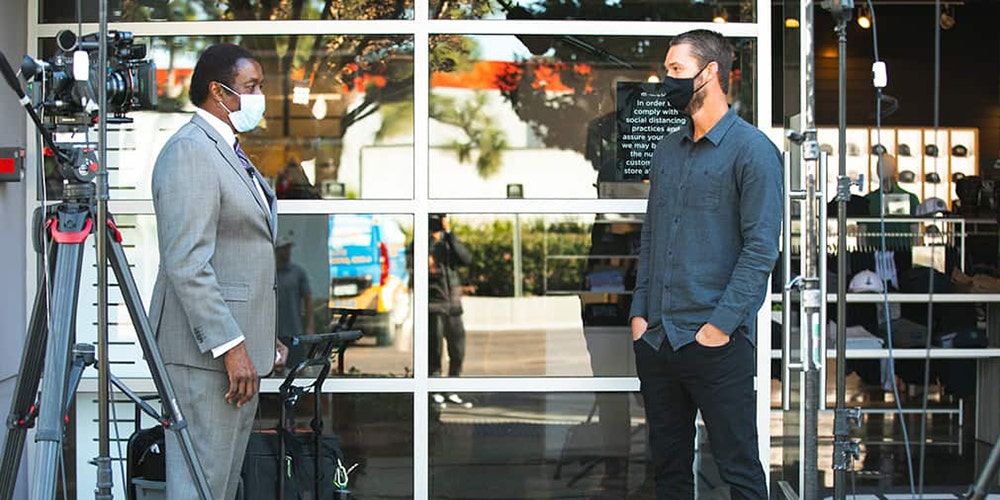 GP: We've seen some huge names from other non-golf related fields wearing the brand including Harry Kane & Niall Horan from these shores along with Justin Timberlake, Matthew McConaughey, Oscar De La Hoya and Adam Sandler to name-drop a few from across the pond. But we hear that Mark Wahlberg is arguably your biggest celebrity fan…how did your relationship with the biggest movie star on the planet come about?!
RE: Because athletes and celebrities love to golf, the relationships tend to be very organic. They golf the top courses in the US and we tend to have a great presence likely on the front table - then once they wear the brand they become hooked.
That's exactly how it went with Mark, he was promoting the brand by wearing it all the time, so we reached out and started the relationship and eventually he became an ambassador.
We were able to have a great sit down with him a few months back at his house and talked brand, sports, golf...he is just an amazing person to be around. Really down to earth for all of his "celebrity" status - we look forward to working with him for as long as he is interested!
GP: We really like what we see for 2019 and we're confident that our consumers will love TravisMathew once they get their hands on it. In yours words, what can our consumers expect to receive when they purchase any TravisMathew garment?
RE: Quality product with very close attention to detail. When you decide you are going to spend your hard-earned money on clothing, your expectation should be that it will look great, fit well and hold up over time. In addition to that we have a lot of discoverables in our product, from funny care labels to hidden details in the garments. While this might not be the reason you buy it, it's something you notice over time and recognize the care and attention that was put into making it. We have a premium product and want to make sure we are giving our customer great value for money.
GP: Thanks again for your valuable time today, Ryan; we're sure that our eMAG readers will love your insight into TravisMathew as a brand!